Andrew Stanton to Direct Finding Nemo Sequel
In return, the <em>John Carter</em> helmer hopes to make another live-action movie.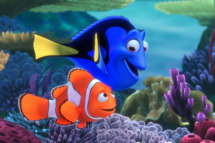 As the first out of the gate this year with an underperforming tentpole (though others, like Battleship, would follow), director Andrew Stanton became an industry whipping boy for John Carter, and now Deadline reports that he has retreated to more familiar waters: He's signed on to direct the sequel to his biggest hit, Finding Nemo, in the hopes that Disney will then let him direct another live-action film. And now, of the ten original properties Pixar has launched, four of them have been sequelized. Who's up next?