Arrested Development Begins Filming in Four Weeks
Jason Bateman and Ron Howard are excited.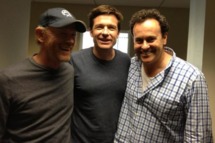 Were you scared that the Arrested Development revival on Netflix would be scuttled? After all, its cast members are pretty busy: Jason Bateman is prepping his directorial debut, Portia de Rossi was just cast in The Munsters, Will Arnett's got Up All Night, Tony Hale booked the new Paul Feig movie, etc. Well, it's time to exhale: Last night, Bateman tweeted a photo of his meeting with AD mastermind Mitch Hurwitz and Ron Howard, adding, "Filming for the new episodes starts in four weeks." Brush up on your chicken dance!