Bad Santa 2 Will Drunkenly Stagger to Theaters
Billy Bob Thornton is reprising the role.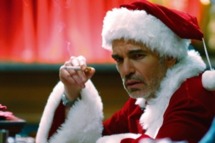 Do you find it less worrisome when studios churn out sequel after sequel with barely any breathing room (hi, The Hangover!) or let franchises sit for a minute to a decade before giving them another whirl? If you're into the latter, here's news: Steve Pink (Hot Tub Time Machine, Accepted) is making Bad Santa 2. Billy Bob Thornton will return; Bernie Mac will be missed. Go ahead and riff on good Die Hard–sequel subtitles at your earliest convenience.