Chris Brown Has the No. 1 Album in America
Look at your choices.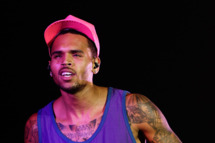 Rihanna's abusive ex-boyfriend sold 134,000 copies of his new album, Fortune, which was enough to land him the top spot on the Billboard "200." Katy Perry's Teenage Dream rode a 3-D wave (and an Amazon 99 cent deal) to the No. 2 spot; Adele has fallen all the way to No. 9, behind Justin Bieber, Linkin Park, and Maroon 5. Look at your choices, everyone.