Django Unchained Wraps Filming
On to the editing bay.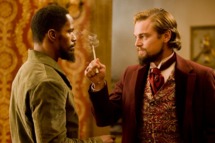 That Christmas Day ticket to Django Unchained you've already purchased in your mind was probably safe all along, but here's a vote of confidence: The movie is in the can. Per Indiewire, producer Stacey Sher writes that after "126 (or 130 depending on who is doing the counting)" days of filming, Quentin Tarantino is moving off the set and into the editing bay. It'll be QT's first time finishing a film without Sally Menke, who died unexpectedly in 2010.