Elizabeth Mitchell Joins J.J. Abrams's Revolution
The action drama starring <em>Breaking Bad</em>'s Giancarlo Esposito.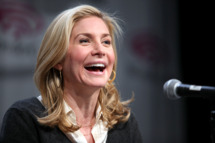 Lost's Elizabeth Mitchell is joining J.J. Abrams's NBC series Revolution, an hourlong action-thriller that'll star Giancarlo Esposito of Breaking Bad. "Mitchell will play the compassionate and concerned long-absent mother of the show's two young leads, Charlie (Tracy Spiridakos) and Danny (Graham Rogers), who set off on a dangerous cross-country journey," EW writes. Compassionate, concerned, but also long-absent — drama!