New Fantastic Four Movie Finds Its Director
Yay, a superhero movie!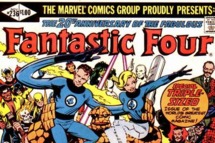 Fox has found a director for its Fantastic Four reboot: Josh Trank. Trank directed the surprise hit Chronicle, which is the most interesting and fresh take on the superpower genre in some time, and was recently in talks to make a Venom movie, but Deadline says this is his next project. Good luck topping Fantastic 4: Rise of the Silver Surfer, Josh! Talk about a tall task.