Green Acres Wants to Be a Broadway Musical
The TV show's 98-year-old director has a story for it.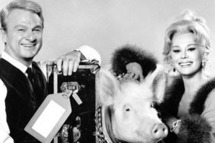 Green Acres, which went to sitcom heaven in 1971 after a six-year run and has since gotten a 1990 reunion-via-TV-movie, a slot machine, and a reference in Pulp Fiction, is being developed as a musical. Richard L. Bare, 98-year-old director of nearly every one of the show's 170 episodes, has drafted the book for what Variety calls a "Broadway-targeted" project. The whole endeavor does have that unforgettable, peppy theme song going for it...