How I Met Your Mother Releasing a Soundtrack of Original Songs
On iTunes in September.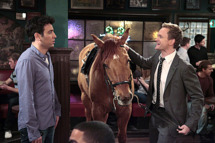 HitFix is reporting that whether or not How I Met Your Mother gets that ninth season, there's going to be an album of the show's original music dropping on September 24, in tandem with the season-eight premiere. "We compiled everything," co-creator Craig Thomas says. "It's 20 tracks, 40 minutes of music." Set for the track list: "Nothing Suits Me Like a Suit," the theme to "Puzzles," and "a fully-produced version of the 'Bang-Bang-Bangity-Bang' song, perhaps with a slight New Orleans theme."