Matt Weiner: Of Course Peggy's Coming Back to Mad Men
"I will spoil that."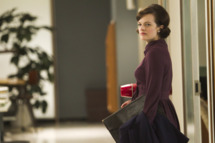 You panicked when Peggy quit SDCP on Mad Men, and your throat closed up a little when Jared Harris seemed to imply that Elisabeth Moss would be leaving the show because of it. Well, here's Mad Men creator Matt Weiner to allay your fears. "When people leave Sterling Cooper, sometimes it is the end," Weiner told TV Line. "But I will spoil that one tiny piece of anticipation and tell people that Elisabeth will be showing up to work." Phew.