Miley Cyrus's Tattoos Are Getting Political Now
The newest is her fifteenth.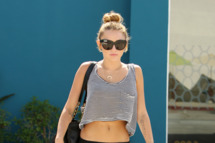 In case you cannot read that long squiggle on Miley's left arm, it is a quote by Teddy Roosevelt and it reads: "So that his place shall never be with those cold and timid souls who knew neither victory nor defeat." Teen rebellion: still going strong.