Bret Easton Ellis May Have Revealed Nikki Finke's Hideout
In turn, Finke may have threatened to sue Ellis.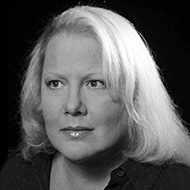 Late last month, the novelist tweeted this to his 300,000 followers: "I'm not sure if this is good news or bad news but I just found out that Nikki Finke lives in the same building as I do in West Hollywood …" Now, this would normally just disappear into that Twitter black hole of celebrity-on-celebrity sightings, were Finke not so devoted to guarding her privacy, especially her address. Gawker's John Cook did a bit of snooping and discovered that Deadline owner Penske Media does, in fact, own an $830,000 apartment in Ellis's building.
Since that's not definitive proof of anything, Cook e-mailed Finke with a link to Ellis's tweet. But, instead of confirming or denying, the Hollywood news queen called up the office of Amanda "Binky" Urban at International Creative Management, which represents Ellis, and gave her assistant what the Observer reports was "an epic, otherworldly screaming-at, the likes of which the assistant had never previously experienced."
Nikki Finke called one of the agencies that reps me and threatened to sue me AND to destroy them as well. Fortunately the agency was ICM.

— Bret Easton Ellis (@BretEastonEllis) July 13, 2012
Also:
Anyone in the movie industry who fears they have to "watch out" for Nikki Finke is a complete and total old-school fucking Hollywood loser.

— Bret Easton Ellis (@BretEastonEllis) July 13, 2012
Bret Easton Ellis: old-school winner?