Oscar-Winner Celeste Holm Dies at 95
Won an Oscar for 1947's <em>Gentleman's Agreement</em>.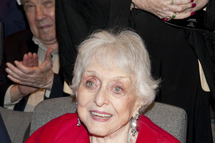 Holm was perhaps best known for her Oscar-winning performance in Elia Kazan's Gentleman's Agreement, but her decades-long career also included stops on Broadway — where she played Ado Annie in Rodgers & Hammerstein's Oklahoma! — as well as several stints on television, including a gig on Fantasy Island. "We live by encouragement," she once said, "and die without it — slowly, sadly and angrily." On the other hand, she was described as a "firecracker" well into her nineties, so hopefully she proved herself wrong.