Philip Seymour Hoffman Officially Cast in Catching Fire
We officially have a Plutarch.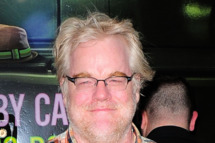 Philip Seymour Hoffman has officially signed on to play Plutarch Heavensbee in The Hunger Games sequel Catching Fire, Lionsgate announced today. Sounds good! Let's see, we've got a Plutarch, and a Johanna — yep, all we need is a Finnick.