Pitbull Is Indeed Being Shipped to Alaska
The Internet vote-rigging worked.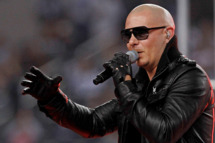 So the Internet-rigged vote to send Pitbull to a Walmart in Kodiak, Alaska, succeeded, but it didn't faze that unflappable bald man in the slightest. (It's not like he'll have to hike from the airport to the store or anything.) Pitbull went on to invite the pranksters, SomethingAwful's David Thorpe and Jon Hendren, along for the trip. Thorpe reported that the invitation doesn't include travel expenses, but that Pitbull is cool with bigging up the guy's brand.