Ratings Dip for Charlie Sheen's Anger Management
They're down 38 percent.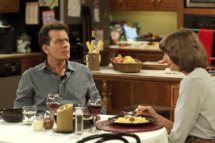 After record ratings for the FX premiere of Charlie Sheen's wholly predicable Anger Management, Deadline reports that last week's episode saw a 38 percent loss in viewership. Its 3.37 million viewers is still pretty healthy, and the all-important 18-49 demographic did see a sizable uptick, but it's going to take consistent numbers for Sheen to get the 90-episode renewal and full-on comeback he's hoping for.