Robin Thicke Starring in Abby in the Summer
It's his first feature film role.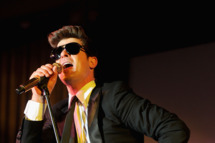 Musician and Paula Patton lover-upper Robin Thicke has been talking about acting since 2009 ("I wouldn't do anything just for the celebrity of it, but I would love to be involved with some great project"). Now he's scored a role in the Jaime Pressly–starring indie Abby in the Summer, in which the two will romance illicitly. Joey Lauren Adams (Chasing Amy, Big Daddy) and American Horror Story's Frances Conroy will also appear in the feature debut of Jimbo Lee.