Your Sunday Long Reads: The Mind of Passion Pit Front Man Michael Angelakos and Writing to Jay-Z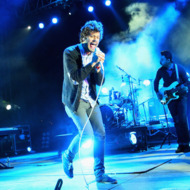 It's Sunday evening, or: your last chance to read all that stuff you meant to read last week before Monday brings a new deluge of things you will want to read. Below, some of our recommendations:
"Rite of Passion," by Larry Fitzmaurice (Pitchfork): A look inside the frequently troubled mind of Passion Pit front man Michael Angelakos, along with the "synth squiggles" that made his career.
"Tracking the Biggest Star in the World," by John Herman (Buzzfeed): 27-year-old California writer who has kept up a two-year-long, one-sided conversation with Jay-Z f is pretty sure the rapper has read all 262 of the confessional e-mails he's sent.
For more in-depth weekend readings, visit our friends at Longreads.
Photo: Jay West/2011 Jay West