The Newsroom Casts Terry Crews of The Expendables
Who knew Sorkin wrote for gigantic former NFLers?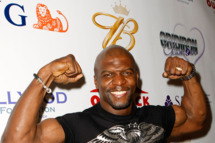 Former NFL player, Expendables star, and explosive Old Spice guy Terry Crews is coming to HBO's The Newsroom. "He plays a bodyguard — and unofficial life coach — for Will McAvoy (Jeff Daniels)," EW reports. The gigantic and intimidating Crews will begin contributing to Aaron Sorkin's latest universe on July 29, the sixth installment, and appear in five episodes total.