This Is What Happens When You Ask Michelle Rodriguez for Sex at Comic-Con
It was "bonkers blasted badoo."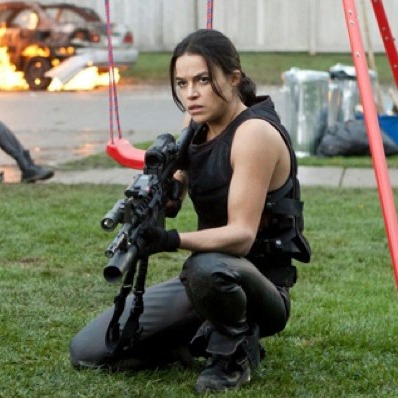 It was a lovefest at the Resident Evil: Retribution panel today … and initially, something of a lustfest. Giggly Michelle Rodriguez, returning to the Resident Evil franchise for the first time since the first movie, had plenty of praise for her costar Milla Jovovich ("I got a lot of respect for this Russian hard-core broad right here") and director Paul W.S. Anderson, but the first fan to ask a question during the Q&A began by praising Rodriguez herself. "Big fan of your work. You're a heavenly blessed beauty, I just had to throw that in," said the man, dressed in a Buzz Lightyear costume. He added, "In terms of the Resident Evil series, would you ever consider having sex with me?"
The crowd was audibly shocked and began to boo. Buzz Lightyear! What are you doing, man? Rude! But Rodriguez took the question in stride and began to tell a story about a "bonkers blasted badoo" stranger she once found in her backyard "doing something I can't even mention in public." At the time, fortunately, Rodriguez was equipped with a "sword in one hand and my .45 in the other, given to me by Sam Jackson on S.W.A.T." And what was the relevance of this story? "He looked just like you!" she said, giggling at Buzz Lightyear. "And now I'm a little bit freaked out."
"I think that's a no," said panel moderator Ralph Garman.
The next questioner, a short, middle-aged woman, walked up to the microphone, momentarily stymied. "How do I follow up that?" she asked, to laughter. "That was my question, actually."