2 Chainz's Hip-Hop Onslaught Proves Commercially Successful
He'll land at No. 1 and sell nearly as much as Nas.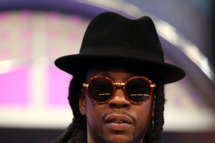 We'll never know if it was the fact that 2 Chainz made himself impossibly visible by teaming with Kanye West, Nicki Minaj, Drake, and basically everyone else in 2012, or if it all came down to that one time he said "okay now ketchup to my campaign / coupe the color of mayonnaise" on "Mercy," but the 35-year-old rapper is on pace to land Billboard's No. 1 spot, moving 130,000 copies of his debut, Based on a T.R.U. Story. That's only 20,000 fewer than Nas's excellent eleventh album, Life Is Good. Whoa, 2 Chainz. Whoa.