Aaron Paul Cast in New Nick Hornby Movie
As a suicidal failed musician.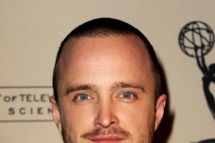 Aaron Paul has been cast as one of the leads in A Long Way Down, Deadline reports. The movie, based on Nick Hornby's 2005 novel, is about four people who are planning to commit suicide — until they meet one another at the top of the building they'd each decided to jump off of. Paul will play the failed musician turned pizza guy, Pierce Brosnan will play a disgraced talk-show host, Toni Colette will play a worn-out single mother, and Imogen Poots will play an unhappy teenager. Can't you feel your heart swelling already?