Anne Hathaway Is 'Totally Geeky' for the Olympics
"There's so much tension!"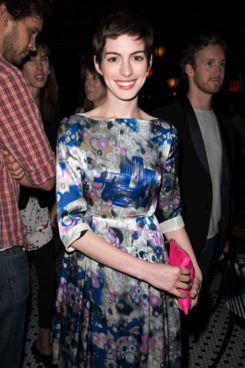 The Dark Knight Rises star Anne Hathaway can boast one of the biggest movies of the summer, but right now, she's as obsessed with TV as you are. "I totally get geeky about the Olympics," she told Vulture last night at the premiere of Celeste and Jesse Forever. "There's so much tension, you don't know what's going to happen! You know that swim that Michael Phelps just had where he tied for the record but came in silver, and it looked like up until the final millisecond he was going to win? My heart jumped into my throat." A fan of swimmer Missy Franklin, Hathaway raved, "The entire U.S. women's swim team is blowing my mind right now. There has been so much focus on the men's swim team, who are all fantastic, and the women have just kind of crept in there and have all done so well." And if she had her wish granted, which Olympic sport would Most Valuable Stars all-around player Hathaway like to dominate? "I would love to be on the U.S. women's gymnastic team or the U.S. women's swim team," she said, adding with a laugh, "There is no basis for this wish — I can't dive, swim, or tumble — but I really think those look fun."