At Last, a Movie About Whales Raising a Child
Who becomes an Olympic swimmer!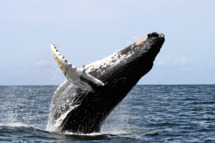 In the grand tradition of amazoterrible whale movies like Orca and Star Trek IV comes Beached, the story of a "chubby 4-year-old" who falls off a boat, is raised by whales, and becomes a champion swimmer, according to THR. The script has been kicking around since 1997, but in the wake of Olympic fever, etc., National Treasure director Jon Turtletaub has revived it. We look forward to its companion piece Grazing, about a chubby 4-year-old who is raised by a herd of chill-as-hell manatees and grows up to be someone with just really positive, relaxed vibes.