Bob Hoskins Announces Retirement From Acting
Owing to his Parkinson's.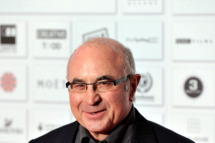 Just a month after Peter O'Toole announced that he would be retiring from film, another British acting great has followed suit. A rep for 69-year-old Bob Hoskins said today that the actor has brought his career to a close so that he can spend time with family and deal with his Parkinson's Disease. The Oscar-nominated Hoskins is best known for roles in Who Framed Roger Rabbit, Mona Lisa, and Hook, and was most recently seen as one of the dwarves in Snow White and the Huntsman.