Bravo Cancels Work of Art
But producers will shop it around to other channels.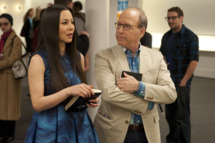 After two smart, surprising seasons, Bravo has cancelled its art-world competition show Work of Art, reports Gallerist NY. Producer Dan Cutforth is currently shopping the series to other networks, though he'll have to do it without the input of our art critic Jerry Saltz, who hung up his judging Spanx at the end of last season. At least the show leaves us with plenty of memories: Sucklord! Miles! The unborn fauns! The art challenges that should have been won every week by whatever China Chow was wearing! Good luck, Work of Art, and godspeed.