FX Picks Up 90 More Episodes of Charlie Sheen's Anger Management
Just as long as we're all still taking domestic violence seriously.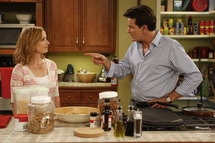 As expected, FX has ordered 90 more episodes of Charlie Sheen's horrendous sitcom Anger Management. All the fun and misogyny of Two and a Half Men, now with lower production values! Management had an unusual deal with FX, wherein a certain ratings threshold over the first ten episodes would automatically lead to a 100-episode pickup; even with a ratings drop after the first week, the show's still averaging more than 4 million viewers per episode, so it met its ratings requirements. Enjoy, America.