Chris Pratt to Defend Vince Vaughn in Starbuck
The film about Vaughn's character fathering hundreds of children by artificial insemination.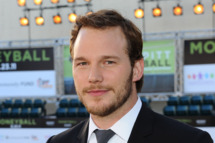 Chris Pratt is eyeing a co-starring role in Vince Vaughn's Starbuck, about a man who anonymously fathers more than 500 children via sperm donation. When 142 of the families file suit to learn the Starbuck's identity, Pratt's character, a lawyer and single father of four, comes to his aid. The film, an adaptation of a 2011 French-Canadian comedy, will be penned and directed by original writer-director Ken Scott.