Emmy Watch: Christine Baranski Picks Her Favorite Season Three Good Wife Episode
Can you guess what it is?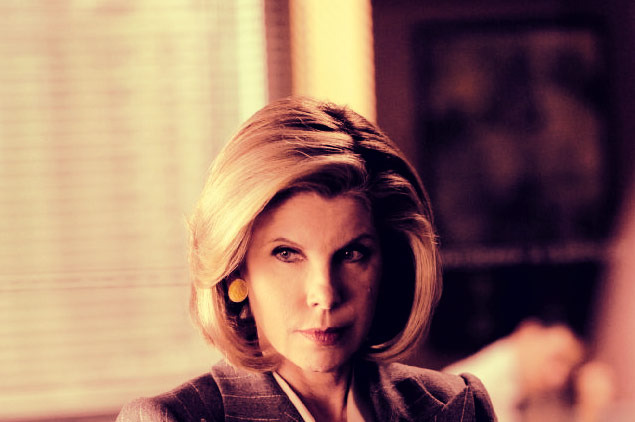 As the Emmys approach (September 23), Vulture reached out to nominees to pose the question, "What was your favorite episode from the last season of your show?" Mad Men's Jon Hamm and The Big Bang Theory's Jim Parsons have weighed in. Today, we have The Good Wife's Christine Baranski.
The Episode: "Alienation of Affection"

If you'll remember, Diane (Baranski) has her way with all the men in this episode. The firm is threatening to implode, thanks in no small part to Will's indictment, and a new guy, also in the legal biz, begins making a full-court press for a date. What Baranski is most proud of is that none of the attention — neither from the scheming partners nor the charming Aussie — reduces Diane to anything less than the formidable woman she is.

She points to the way Diane handles strategist extraordinaire Eli Gold (Alan Cumming), who threatens to get rid of her if she doesn't agree to oust David Lee first. "Alan is [laughs] … he's a lot of kinetic energy. He comes at you. I loved that scene because I deal with him like he's a child who really needs to be told no. 'The answer is no.'" She's forced to deal with all the bickering male partners in turn, and with each, she never even comes close to losing her cool. "She wields authority without being shrill or bitchy or maternal with the men," Baranski tells us. "She's not condescending. She doesn't pussy-whip them. She levels with them. She doesn't even raise her voice — she looks at them and says, 'C'mon, cut the crap.' And they can't argue with her because she's so forthright and level-headed."
Baranski's sense of authority is second-nature now; she's long relished being in charge. "I was school president from the time I was in sixth grade through high school. Even though I didn't play softball very well, they elected me captain of the team. I was never the prom queen. I organized and ran the prom. I don't mind getting up in front of large groups of people," she says. That said, the actress concedes it took her a couple of seasons to get accustomed to the way Diane rules her roost. "People with real power don't need to raise their voice. They command the room from a very strong, quiet center," Baranski says. "I like that the writers write her that way."

And it's not much different in Diane's personal life: Turns out she's a terrific flirt who, with minimum effort, seems to make the men come to her. In the episode, Diane gets off on the wrong foot with Jack (Bryan Brown), a rugged, handsome fellow who charms the hell out of her right before serving her papers. (But he's sorry about it! And then he sends her a painting!) "Bryan showed up to set with those sparkling blue eyes and that marvelous Australian accent and all I had to do, really, was react," Baranski says. "I just had to listen and be delighted by him. And intrigued, which I was. Between takes we had incredible conversations." And wasn't it a Good Wife highlight to see Diane's eyes light up just a bit when she sees Jack deck a guy refusing to be served? "She was totally turned on!" Baranski says, laughing. "They work very hard to write guys, real guys, to play opposite Diane. There's something she really digs about the cowboys. I don't think she would necessarily date just metrosexuals who love the opera."