Cobie Smulders in Talks for Vince Vaughn Comedy
For <em>Starbuck</em>, the sperm-donor one.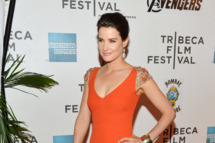 Avengers and How I Met Your Mother star Cobie Smulders is in talks to co-star opposite Vince Vaughn in his upcoming sperm-donor movie Starbuck, THR reports. Vaughn plays a man who discovers that he's fathered over 500 children, and Smulders would play his pregnant girlfriend, who's unaware of her boyfriend's prodigious paternity.