Today in Campaign Music: 'D.J.'s for Obama,' Devo's Seamus Song
It's Seamus Day, apparently.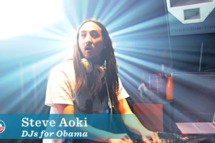 What's new and totally hip on the 2012 campaign trail? Well, someone on Obama's election staff is really into EDM and therefore commissioned this real "D.J.'s for Obama" video (spot the Steve Aoki cameo). Meanwhile, Devo has written a song titled "Don't Roof Rack Me, Bro!" which is, in fact, a tribute to Mitt Romney's dog, Seamus. Everyone's getting in on the dog humor today.