H. Jon Benjamin Is Headed to Suburgatory
And not just his voice!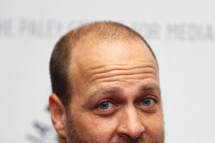 When H. Jon Benjamin isn't busy working on two animated comedies (Archer, Bob's Burgers), he occasionally makes time for a live-action acting gig, like his season-two visit to Parks and Recreation. His latest: a guest turn on ABC's awesome Suburgatory, whose sophomore season is a loooong two months away (October 17, in case you haven't set your DVR yet). Benjamin will play an off-kilter life coach named Tabitha (but pronounced Tibet-itha) who ends up working with Dallas (Cheryl Hines). He'll appear on the October 24 episode.