Jennifer Aniston and Justin Theroux Are Engaged
They've confirmed it to <em>People</em>.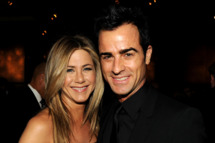 It feels like the Justin Theroux–Jennifer Aniston engagement rumors started just days after they were first spotted together in May 2011, but now it's official. His rep tells People, "Justin Theroux had an amazing birthday on Friday, receiving an extraordinary gift when his girlfriend, Jennifer Aniston, accepted his proposal of marriage." This will be Theroux's first marriage and Aniston's second (you've probably heard a thing or two about that). Between this and the Kristen Stewart cheating scandal, the gods are really smiling on tabloid editors these days.