Emmy Watch: Jim Parsons Picks His Favorite Episode of Season Five's The Big Bang Theory
Can you guess what it is?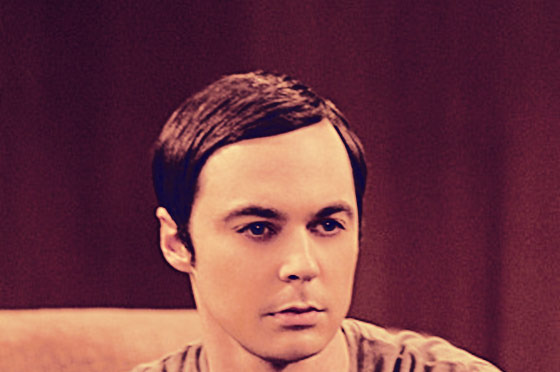 As the Emmys approach (September 23), Vulture reached out to nominees to pose the question, "What was your favorite episode from the last season of your show?" The series kicked off yesterday with Mad Men's Jon Hamm. Today, we have The Big Bang Theory's Jim Parsons.

The Episode: "The Ornithophobia Diffusion"
The paradox of The Big Bang Theory's Sheldon Cooper (Parsons) is that he's thoroughly endearing, yet totally incapable of expressing affection. His love interest of three seasons, Amy Fowler (Mayim Bialik), hasn't been able to nudge him past hand-holding. But in Parsons's favorite episode of Season 5, The Ornithophobia Diffusion, Sheldon finally learns how to say 'I love you'... to a blue jay.
"It's exceptionally silly. It's exceptionally unlikely. It really gets right up to that suspension of disbelief," Parsons tells us, describing his love for this particular episode. "For me, that's one of my greatest joys as an actor ... I love the chance to be in this most unlikely scenario, and to live fully and hopefully, believably and honestly in that world."
Sheldon's interactions with the bird are actually the B story of the episode, which focuses mainly on a movie date between Leonard (Johnny Galecki) and Penny (Kaley Cuoco). While those two are busy trying to hash out their "just friends" boundaries, Sheldon — who, we learn, has a terrible fear of birds — tries to shoo a stubborn blue jay from the apartment's windowsill using increasingly desperate measures. (One involves a Boba Fett helmet and a broom.) Undeterred, the bird flies into the apartment.
"We did a lot of pre-taping," Jim recalls. "The bird coming in and landing in Sheldon's spot — which I thought was a stroke of genius on the writers' part — we had to shoot that in segments, obviously. It wasn't gonna do that in front of an audience."
With Sheldon forced to confront his ornithophobia head-on, he has a complete change of heart. The idea of bonding with a bird wasn't so foreign to Parsons, who had a parakeet for fifteen years growing up. At one point during shooting, he communed so enthusiastically with the blue jay that the animal trainer had to step in and tell him to back off. ("I was just like, eye-to-eye with him, and that's beak-to-eye as far as the dangerous part goes," Parsons says.) Still, there was one moment of awkwardness with his hollow-boned scene partner.
"The only time I got scared was — and it fit the script in a way — when Sheldon is supposed to pet the bird," he admits. "Because I thought, well, I would bite me. Birds don't like to be petted ... and we only had to do a couple takes or whatever, and he did not ever bite me. But that part kind of freaked me out."
Bird scenes aside, Parsons says that The Ornithophobia Diffusion highlighted one of his favorite things about working on The Big Bang Theory: exchanging barbs with Galecki. "There's almost this touch of Vaudevillian banter back and forth, just real quick and real. It's not natural human speak," he says. "And so the challenge, of course, is to make it as natural as possible. But there's great fun in dancing that dance. And for me, there's a real thrill in feeling like you accomplished that."