Josh Brolin Eyeing Sean Penn's Crazy for the Storm
Sean Penn's next directorial effort.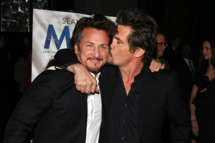 Josh Brolin is in negotiations to star in Sean Penn's next directing gig Crazy for the Storm, potentially set to film in early 2013. The story centers on an 11-year-old boy surviving after a mountainous plane crash using the skills his father taught him; Brolin would play the father. Brolin and Penn have been acquainted for some time — as evidenced by this 2009 smooch shot — and will both appear in the recently postponed Gangster Squad.