Report: Justice League May Introduce the New Big-Screen Batman
Meaning we'd get some breathing time before the Bat gets rebooted.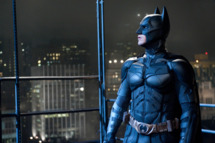 When Justice League was in the mix during the hallowed Christian Bale Batman era (2005–2012), the posse film's caped crusader was set to operate outside Christopher Nolan's mythology. With The Dark Knight Rises in the books and Justice League back on track, there may be a new tactic at hand. Batman On Film (which SlashFilm vouches for as "a really great site for Batman film news") reports that the inevitable Batman reboot will come after Justice League, using the latter as an introduction to Hollywood's newest Dark Knight. Interesting.