Storm Forces Evacuation of Lollapalooza
The weather will probably be better in Tel Aviv next summer.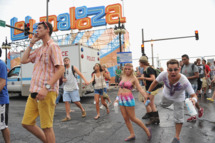 Thousands of Lollapaloozaers were evacuated from Chicago's Grant Park for about three hours yesterday as intense thunderstorms and 70-mile-per-hour winds bore down on the city. Most of the attendees were corralled into three prearranged underground shelters. By six, though, festival favorites Franz Ferdinand, the Red Hot Chilli Peppers, and Frank Ocean were back onstage. In other Lollapalooz-news, the traveling music festival just announced its third overseas destination: This time in Tel Aviv, Israel, next August.