M. Night Shyamalan Has a TV Show for Syfy
Called <em>Proof</em>, about verifying life after death.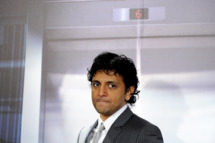 We're not sure what this says about M. Night Shyamalan's film career or his hopes for After Earth ("It's gotta be better than The Last Airbender, right, guys? Right?"), but the director is heading to TV for the first time. Syfy struck a put-pilot deal for Proof, from Shyamalan and Buffy the Vampire Slayer writer-producer Marti Noxon, about the son of a newly deceased billionaire offering riches to whoever can prove that there's life after death. Maybe there's ... A TWIST.