Madonna Got Rid of That Swastika
Now it's a question mark.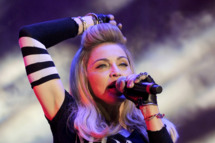 After the French National Front Party threatened to sue, Madonna has apparently decided that a tour video imposing a swastika on the forehead of its president, Marine Le Pen, is not the most effective form of protest, and she has edited the image. In placed of a swastika, the video now shows a question mark. And so concludes this chapter of Madonna: In Search of Controversy.