Many People Watched Matthew Perry's New Sitcom
Because it was on right after the Olympics.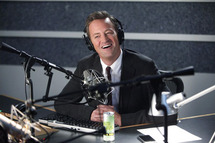 It probably won't matter in the long run, but a lot of people decided to check out Matthew Perry's new NBC sad-com Go On Wednesday night. A post-prime-time, post-Olympics preview of the show's pilot drew 16.1 million viewers and averaged a 5.6 rating with folks under 50. The network says about 84 percent of viewers who watched the first half of the commercial-free episode stayed for the second half, indicating they either liked what they saw (like many, but not all, critics) or just … couldn't … turn away.