Read the Definitive Meryl Streep Matrix
What's your favorite kind of Meryl Streep?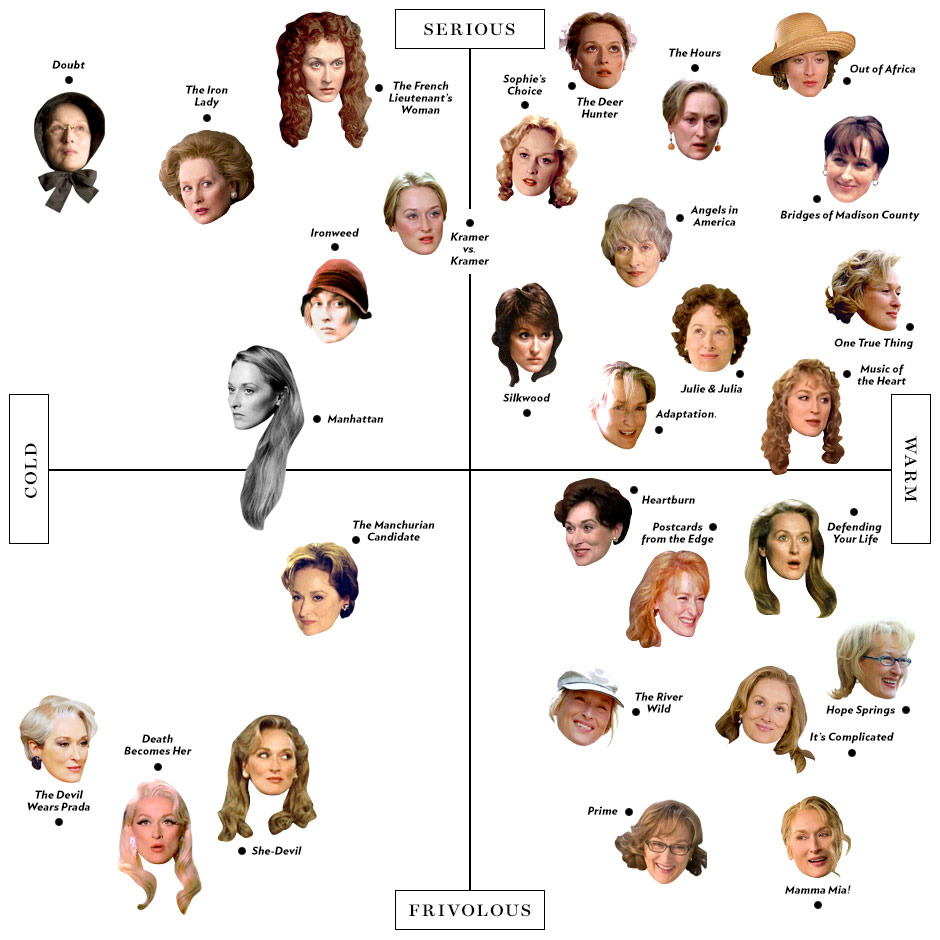 Meryl Streep, America's favorite actress™, plays an unhappy, Midwestern wife to Tommy Lee Jones in Hope Springs, opening today. The film is apparently much more somber than it looks, at least if you've seen any posters or commercials for the film, which paint Streep as a chirpy empty-nester hell-bent on spicing up her defunct sex life. But we've reached a point now at which it's become almost too easy to peg Streep's roles to a certain type of character: buoyant and bubbly, glasses on and off in films like It's Complicated and Mamma Mia! to more stoic, juicily melodramatic fare like Doubt and The Iron Lady. We've devised a definitive, comprehensive matrix that plots Streep's shining moments in cinema, from her yappy, overbearing Jewish mother in Prime to the French lieutenant's woman in ... well, you know.
+ Show Photo Credits
Doubt: Courtesy of Miramax Films
The Iron Lady: Courtesy of the Weinstein Company
The French Lieutenant's Woman: Courtesy of United Artists
Ironweed: Courtesy of Columbia TriStar
Manhattan: Courtesy of United Artists
Kramer vs. Kramer: Courtesy of Columbia Pictures

Sophie's Choice: Courtesy of Universal Pictures
The Deer Hunter: Courtesy of Universal Pictures
Silkwood: Courtesy of Twentieth Century Fox Film Corporation
The Hours: Courtesy of Miramax Films
Angels in America: Courtesy of Home Box Office (HBO)
Julie & Julia: Courtesy of Columbia Pictures
Adaptation: Courtesy of Sony Pictures Entertainment (SPE)
Out of Africa: Courtesy of Universal Pictures
The Bridges of Madison County: Courtesy of Warner Bros. Pictures
One True Thing: Courtesy of Universal Pictures
Music of the Heart: Courtesy of Miramax Films

The Devil Wears Prada: Courtesy of Twentieth Century Fox Film Corporation
Death Becomes Her: Courtesy of Universal Pictures
She-Devil: Courtesy of Orion Pictures Corporation
The Manchurian Candidate: Courtesy of Paramount Pictures

Heartburn: Courtesy of Paramount Pictures
Postcards from the Edge: Courtesy of Columbia Pictures
Prime: Courtesy of Universal Pictures
The River Wild: Courtesy of Universal Pictures
Defending Your Life: Courtesy of Geffen Pictures
Hope Springs: Courtesy of Columbia Pictures
It's Complicated: Courtesy of Universal Pictures
Mamma Mia: Courtesy of Universal Pictures