Michael Keaton to Invent RoboCop Instead of Hugh Laurie
He's joining the remake.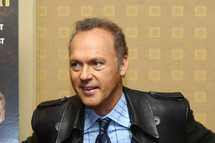 The RoboCop remake's bad guy just went from Hugh Laurie — who's great, but oft-seen, with House and everything — to Michael Keaton, whose onscreen presence has been ultrarare in recent years. Keaton will play the CEO of Omnicorp, the corporation that creates RoboCop. Welcome to the incredible cast, Mike — you've got great company in Joel Kinnaman, Gary Oldman, Samuel L. Jackson, and Abbie Cornish, and you're happily welcomed by fans of both robotic police and movies.