Edelstein: Celeste and Jesse Forever Is Eternally Unconvincing
Rashida Jones has co-written herself the "adorkable" role of Celeste in this seriously trying comedy.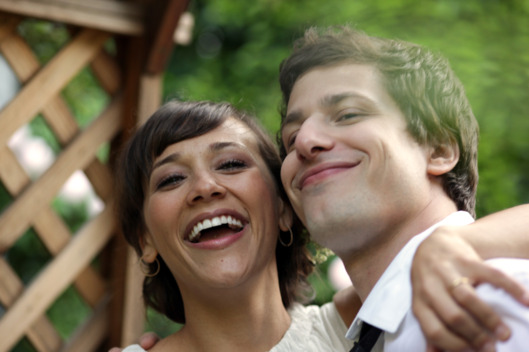 Rashida Jones has co-written herself the "adorkable" role of Celeste in the seriously trying comedy Celeste and Jesse Forever, which centers on a couple (Jesse is played by Andy Samberg) attempting to stay intimate — not just friends, but cuddly BFFs — in the midst of a divorce. Their pals think they're nuts and so does the audience, chiefly because it's hard to see why Celeste would drop the bomb (she thought Jesse was too much of a slacker to breed with) and then keep him so close — unless she's a delusional narcissist, which I don't think is meant to be the point. Jones is an attractive comedienne with excellent timing, but oh, the faces she pulls. (Zooey Deschanel would say, "Girl, turn it down a notch.") Should Celeste get back together with Jesse? As in mumblecore, scene after scene ends on the same irresolute note, but without the small, cumulative details that make the best mumblecore penetrating. Meanwhile, Samberg's Jesse is asexual, a wet noodle — he really could be her gal pal — and so undemonstrative he makes Paul Dano in Ruby Sparks look like Scaramouche, Michael Cera in any role like Zorro.