Movie Tickets Are Now More Expensive Than Ever
In case you hadn't noticed.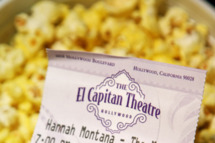 In the last three months, the average movie ticket around the country cost $8.12, the highest price ever recorded says NATO- (no, not the military alliance, the National Association of Theater Owners.) That's up from $7.92 earlier this year and way up from a bargain-rate of $4.35 ten years ago. No surprise: most of this increase is attributed to higher-priced 3-D tickets.