NBC Buys Freakonomics-Inspired Pariah
Kelsey Grammer will produce.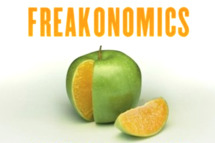 If you'd told us in 2005 that Freakonomics would boast tremendous life in the form of a sequel, a film, and a TV police procedural, we'd have said, "Sure, sure, and Coldplay's 'Fix You' will still be the go-to for emotional wallops in 2012." But we'd have been doubly wrong, because NBC has purchased Pariah, featuring characters "inspired by the economic theory Freakonomics made popular," and Kelsey Grammer is producing, and "Fix You" is still fixing everything.