NBC Wants Miranda Lambert's Detective Drama
About her childhood. Whoa.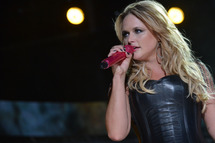 Country singer Miranda Lambert had an interesting childhood — her parents ran a private eye agency together in Texas while she and her brother were growing up — and now NBC has purchased the TV rights. Set to be "a light drama," the untitled series will be executive-produced by Lambert, whose husband, Blake Shelton, judges The Voice. NBC loves 'em a TV-friendly, country-singing married couple.