Nicole Kidman: Paperboy Pee Scene Wasn't 'Weird'
"I just went for it."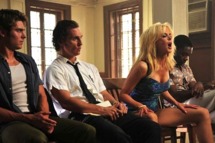 Nicole Kidman appears bottomless on the risqué new cover of V, which is perhaps appropriate, since she shed her shorts for the infamous scene in the forthcoming The Paperboy, in which her character, Charlotte, pees on Zac Efron after he is attacked by jellyfish. (Writing that never gets old.) "The peeing thing, I didn't think was that weird, because I was in character," Kidman explains to the magazine. "That was for the jellyfish. And for me it said so much about Charlotte. One, she's protecting him. Two, she's tough as nails and no one else is going to pee on this guy." True enough! But there are still some things she won't do for a director. "[Lars Von Trier] does strange stuff. He tried to get me to come out in a dog collar [at Cannes]," reveals Kidman. "And sometimes you just say, 'Shut up, Lars,' 'Put your clothes on, Lars.'"