President Obama Really Enjoyed Anne Hathaway's Catwoman
"She's the best thing in it."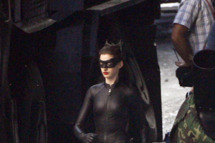 "She's spectacular," he told the very fancy people assembled at a Hollywood fund-raiser co-hosted by Hathaway, Harvey Weinstein, Aaron Sorkin, and Anna Wintour. "I got a chance to see Batman, and she was the best thing in it. That's just my personal opinion." He said a vaguely nice thing about Sorkin, too, but no Newsroom endorsements, presumably because our president hates Coldplay.