Pussy Riot Just Released a New Song
It's called "Putin Lights Up the Fires."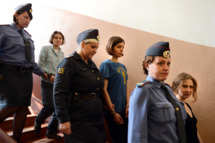 Earlier this morning, three members of Russian feminist punk collective Pussy Riot were sentenced to two years in prison for a protest staged against Vladimir Putin. (The official crime was "hooliganism motivated by religious hatred.") In response, the band has released a new song titled "Putin Lights Up the Fires"; it's in Russian, but you will understand its spirit.