Rosie O'Donnell Secretly Married Her Girlfriend
She and Michelle Rounds wed in secret.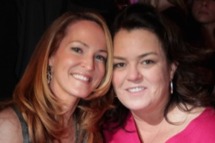 Over on her free-form poetry-style blog, Rosie O'Donnell announced on Monday that she recently wed Michelle Rounds in secret. Both have suffered health problems lately, with O'Donnell's heart attack and Rounds facing desmoid tumors, a rare and often fatal illness. The newlyweds plan to have a blowout ceremony once they're in better condition, and for now are expressing thanks to "all of u / stranger-friends / connected thru invisible strands / of wi fi."